SIM CONNECTIVITY
4G Industrial Router
The Go2-4G Router is an ideal product for industrial applications. With its all metal construction and impressive features, makes this a right choice for IoT and M2M applications. Go2-4G Router provides the user with a reliable mobile 4G broadband internet connection for mission critical connectivity for IoT/M2M remote management.
Go2-4G Routers provide IoT connectivity for many applications, ANPR Cameras, Remote CCTV, Kiosks and any other situation that requires IP connectivity between a device and a host.
£135 + vat
Per Router
Buy Now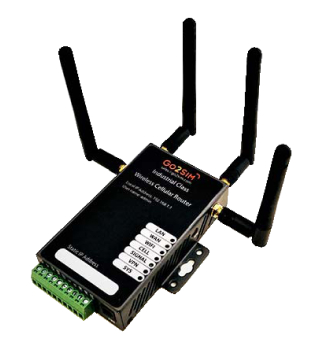 View the information
PDF for technical details
View PDF
Go2-4G RouterKey Features
Industrial,
robust construction
Discrete and robust – doesn't look like an office product so less likely to be interfered with.
Can be used with Fixed IP SIM cards
VPN and security functions of normal business router within a secure corporate network
Easy to set up and will work out of the box in simple installs i.e. internet access only.
Supports external antennas so ideal for remote and low signal strength areas.
Keep alive features utilising PING and SMS
High Speed N Wireless and 802.11 b/g WiFi access for local connections
Port forwarding facilities for efficient data transfer & connection to multiple devices as well as remote admin.
Small and easy to install
Wide voltage range for industrial applications
Ideal for remote unmanned applications
Delivery Fees
If more than 5 routers are required, please contact us for a price.
| Quantity | Price |
| --- | --- |
| 1 Router | £5.00 |
| 2 Routers | £9.00 |
| 3 Routers | £11.00 |
| 4 Routers | £13.00 |
| 5 Routers | £16.00 |
Get in touch with
Go2Sim.
Talk to us about your IOT, SIM or Router requirements or send us an e-mail now.
01634 816288
sales@go2sim.com